UPs and Downs (Combination Skin)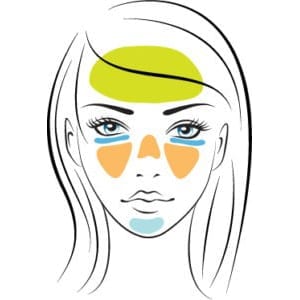 UPS & DOWNS (COMBINATION SKIN)
Is your skin on a daily rollercoaster? One day you're dry and one day you're oily? You probably have Combination skin. Oiliness, dryness and normal skin can all be present. Determining a Home Program can leave you very confused. That's OK. This is one of the most popular skin types. For you the goal is to balance the oiliness and dryness, prevent future breakouts and enhance the overall glow of your skin.
Does this look familiar?
Blemishes and fine lines may be present at the same time.
Oiliness in the nose and check area, dryness in other areas.
Skin may appear drier in the morning and shinier in the afternoon.
Look Fabulous:
Don't settle. Switching up your products throughout the year can help your skin adapt as seasons change. It's ok to have a richer moisturizer for Winter and a lighter Moisturizer for Summer.
Indulge in a mask. Masks are a great way to instantly revitalize skin giving it a healthier glow while pampering yourself.
Look Not Fabulous:
Going to bed with your makeup on. This is a huge no-no. Cosmetics can clog pores leaving you battling breakouts and overall dullness.
Ignoring your eyes. This is the thinnest most delicate area on the face. Be sure to use an eye cream to soften fine lines and give a rested appearance.
Sale! Description
The Green Stuff 5 in 1 Facial Cleansing Gel, Eye Make Up Remover, Shave Gel, Moisture Mask, Moisture Retention / For All Skin Types.
Natural ingredients gently clean the skin without stripping its natural emulsifiers. A greaseless cleanser that lifts deep pore impurities and all traces of makeup. Doubles as shaving gel and eye make-up remover, as well as a moisture mask.
Key Ingredients: Whole Leaf Aloe Vera Gel, Sucrose Cocoate, Copper PCA
ToneZit Oily/Acne Toner with Copper PCA For
Oily, Oily Acne and Combination Skin Types
This reviving formula offers antiseptic properties, which help soften the epidermis, clear clogged follicles and regulate the activity of sebaceous glands. Controls excess oiliness and prevents accumulation of impurities in the epidermis.
Key Ingredients: Peppermint Oil, Arnica Extract,
Green Tea, Algae Extracts, Copper PCA,
Control Zone Oil Free Moisturizer / For All Skin Types
This very effective cream contains Sage
Extract, which has astringent, anti-bacterial, anti-septic, anti-inflammatory and healing properties. Combined with Watercress Extract to reduce oil production and Vitamin A Palmitate to keep skin soft and plump.
Key Ingredients: Sage Extract, Retinyl
Palmitate – (Vitamin A), Grapefruit Extract,
Watercress Extract |
Destroy Zit Zinc, Camphor and Sulfur Spot Treatment
for Oily, Blemished and Acne-Prone Skin
An exceptional spot treatment for all skin types. A highly effective topical formula, with high concentrations of Sulfur, Zinc Oxide and Camphor to clear blemished skin. A very fast acting spot treatment with antiseptic benefits.
Mask Zit Camphor and Sulfur Clarifying Mask
With Copper PCA. For Oily, Blemished
and Acne-Prone Skin
Treat oily or acne-prone skin with this normalizing mask. The purifying and cleansing properties of Camphor help stabilize sebaceous gland activity, while sulfur aides in dissolving the Keratin buildup of the epidermis. This combination helps clear up and minimize clogged pores
and dries out pimples.
Key Ingredients: Camphor, Sulfur – (Colloidal),
Tune Up 10 Glycolic Acid / For All Skin Types
Reduces the appearance of aging, scarring, acne and discoloration of the skin. This formula will loosen the outer layer of the skin exposing new, fresh skin to the surface.
Key Ingredients: Whole Leaf Aloe Vera Gel, Glycolic Acid 10%, German Chamomile Extract
Go Spot Go Natural Fade Gel / For All Skin Types
Very beneficial to help fade areas such as freckles, melasma or sun spots. Evens out skin tone.
Key Ingredients: Licorice Extract, Lemon Extract, Cucumber
Later Alligator Vitamin C Moisturizer / For Normal
Combination and Sensitive Skin Types
Very hydrating and lightweight, this cream contains grape seed oil and Vitamin C, which are very powerful anti-oxidants. They provide the ultimate protection from devastating and aging effects of free radicals. Skin will be smoother and firmer and complexion even toned. Aids in the repair of sun damaged skin.
Key Ingredients: Sodium Ascorbyl Phosphate (Vitamin C
Restoration C Vitamin C Serum / For All Skin Types
This advanced concentrated formula infuses an optimal concentration of the highest forms of stabilized Vitamin C. Topically applied, it stimulates the regeneration process of Collagen fibers. Restoration C will diminish age spots, while your skin regains it's natural firmness, smoothness and elasticity.
Key Ingredients: Magnesium Ascorbyl Phosphate (Vitamin C), Chamomile Extract, Willow Bark Extract
Caffeine Blast Intoxication Extreme Clean 5 in1 One / For All Skin Types
This 5 in 1 intoxicating product is a cleanser, scrub, mask, skin brightener and skin tightener.
Loaded with caffeine for extreme tightening and also to relieve puffiness. Jojoba beads to gently exfoliate papaya enzymes and salicylic acid to brighten the skin. Grapefruit and peppermint oil for a cool calming clean! Get intoxicated!
Key ingredients: Caffeine, jojoba beads, papaya enzymes, salicylic
Caffeine Eye Gel / For All Skin Types
The combined ingredients of caffeine for de-puffing, antioxidants for diminishing dark circles, menthol and lactic for cooling, stimulating circulation and exfoliating. Guaranteed to see results! FEEL the TINGLE!
Key Ingredients: Caffeine, Hesperidin Methyl Chalcone, Menthyl Lactate |
Sunshield SPF-30 Moisturizing Sunscreen For All Skin Types.
This maximum protection formula shields your skin against sun aging, skin cancer and other harmful effects of the sun while moisturizing your skin.
Key Ingredients: Zinc Oxide, Beeswax, Avocado Oil, Shea Butter
Additional information
| | |
| --- | --- |
| Size Option | Ups & Downs Retail, Ups & Down Bonus Sample |