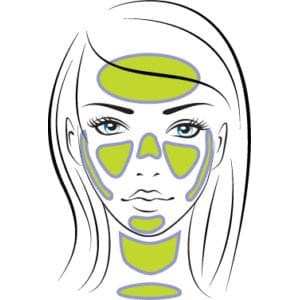 Oily Day – Every Day (Oily Skin)
The good news is you are less prone to wrinkling and other signs of aging. The bad news is you feel like a shiny disco ball. Pore size is visible and larger. You produce too much oil which can lead to clogged pores and blemishes. Treating oily skin requires a balance of daily cleansing and the use of gentle exfoliators to keep your skin looking clear and healthy.
Does this look familiar?
Dull or shiny, thick complexion.
Acne including blackheads and pimples.
Large visible pores.
Look Fabulous:
Spot treating blemishes with Destroy Zit. This will speed up the healing time while camouflaging redness and inflammation.
Cleansing skin twice a day to remove all traces of dirt, oil and makeup.
Look Not Fabulous:
Being harsh. Using aggressive cleansers and exfoliators can damage, strip and cause your skin to produce more oil.
Avoiding moisturizer. Control Zone Moisturizer BALANCES oily skin without making it feel greasy or oily.